Monday, October 30, 2006
boo. and not in the fun halloween scary "BOO!" way.

Reese Witherspoon and Ryan Phillippe have separated. The couple's rep released a statement to TMZ Monday morning that says "We are saddened to announce that Reese & Ryan have decided to formally separate. They remain committed to their family and we ask that you please respect their privacy and the safety of their children at this time."

Sources tell TMZ Witherspoon has contacted celebrity divorce lawyer Robert Kaufman, who has represented Jennifer Aniston, Roseanne and Lisa Marie Presley.

Sources say Witherspoon spoke with Kaufman about divorcing Ryan Phillippe, her husband of seven years. The couple has two children. They met at Witherspoon's 21st birthday party.

As for why Witherspoon contacted Kaufman, we're told it was not triggered by one event. Rather, one connected source says it was "cumulative."

Divorce papers have not yet been filed.

===================================================

*sad face* i thought they were, like, the cutest couple ever. i'm way sadder about this then i ever was about brad and jen. i mean, in the sense of caring about the relationships of people who are not me.

team...fuck, i don't know. team marriage counseling! *tear*

Sunday, October 29, 2006
dig if u will the picture.
hey guys! happy almost-halloween! i hope everyone remembered to fall back. i, for one, LOVE "falling back." i think it's because i'm such a night person, so the sooner it gets dark, the happier i am.

anyway. two pictures of supreme importance.

HEE.


i don't know why, but i'm not complaining.

jkras! dancing! with will arnett! and amy poehler's in the background!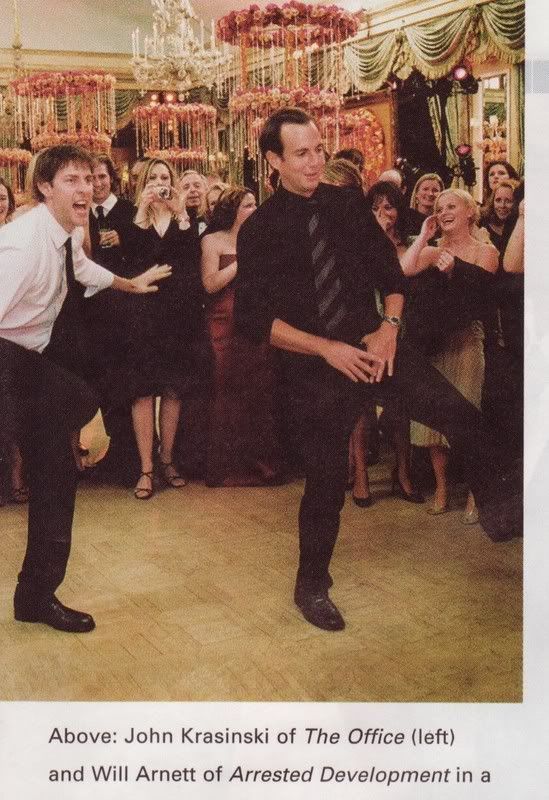 i went and saw marie antoinette today. i really liked it, but i suspect it's one of those films that people will either love or hate. it was slow and not too much actually happened, but it was an interesting character study, i thought. sofia coppola directed, so if you liked lost in translation, you'd probably like marie antoinette. the costumes were amazing and the movie itself was just lovely and bittersweet.

here's the trailer.

Friday, October 27, 2006
blame canada!
ok, i got the video of benji (and the others) on MOD uploaded. i split it into three parts because there were a few things (like a replay of heidi's first time in the bottom 3, and a boring-ass video of the host taking tap-dancing class) that no one really needs to see.

it worked out kind of...not that well, as there's one section that's ginormous and two that are pretty small, but y'all will manage, i'm sure.

anyway! for the love of benji, right-click and save, please!

part 1
part 2 (this is the big one, it's like 100 MB)
part 3

thanks to nobody for the cap and emily for the heads-up.

in completely unrelated news, i saw the prestige last week (which was fairly awesome, but the departed was better), and there was a preview for this movie, and i'm totally excited. darren aronofsky is amazing. if you haven't seen requiem for a dream, i highly recommend it. it's REALLY dark and disturbing (don't say i didn't warn you) and absolutely stunning.

anyway, here's the trailer for aronofsky's new film, the fountain.

Thursday, October 26, 2006
Out of This World Sex...Literally!
John Krasinski was featured in Jane Magazines "5 Questions We Always Ask" section.


Ginormous!


In Benji news, here's a recap of yesterday's Much Music appearance, courtesy of captcanada!

- segment with Benji, Travis, Heidi, Donyelle and Alison lasted 15 minutes

- they all looked GREAT!!! Benji has reddish spiky hair at the moment, Travis has 'dreadlock' style black stripes cut in the the sides of his hair (still the trademark spiky blond hair on the top), ans Alison looked totally different, as she was wearing a fair bit of makeup.

- the host asked them about whether there was any conflict between the dancers, or any romantic liaisons - all dancers adamantly said there was none. Benji joked that he had been romantically linked on the web to everyone else alongside him (Heidi, Travis, Donyelle and Alison), and that the latest rumour had him and Alison getting married on December 2!!! Needless to say, they were rolling their eyes at that.

- they were asked what they were going to do after the SYTYCD show was over, this is what they said (in order of being asked):

Alison - moving to Los Angeles, and will be looking into doing TV shows, commercials and some modelling;

Donyelle - will continue to do auditions, dancing and get more into being a choreographer;

Travis - going to form Travan/Ivis!! Well, not quite - he is going to move in with Ivan to find a place to share in Los Angeles, to pursue his dancing. He will be doing some stuff with Mia, and also dancing/teaching at Dance Alliance. He has also gotten himself an agent (sounds like a very organized young man to me)

Heidi - will go back into the world of competitive ballroom dancing, and like the others, will look out for any dance-related opportunities that comes her way;

Benji - being Benji, started by saying that he was in the process of creating an exotic dance/strip tease routine!! To which the host said that they had a pole somewhere in the studio, to which Benji quickly backtracked on his words :-) He said that there were a couple of TV shows that he would be appearing in, and after that, he would pursue any dance opportunities just like the others.

- Benji was very low-key during this interview, he shared the limelight equally with the others and didn't try to steal the show. Which is fine, of course, but usually Benji comes across as being high energy and always on the go - maybe the tour is wearing him out! (Benji mentioned that he's got the flu in a recent MySpace bulletin, so that's another possible explanation. - RX *spoonfeeds him soup*)

- to end the segment, they also went outside to greet fans that were waiting outside the studio - the host commented on the number of Travis signs that the fans were holding - maybe Toronto is Travis country!!

I thought this interview was one of the better ones I've seen, as I learnt some things I didn't know before (ie what their plans are for the future) - and this is the first one I've seen with Travis and Alison in it too.
Wednesday, October 25, 2006
Casualty of Poor Sales
From variety.com

B'way's 'Singer' to shutter

Broadway tuner "The Wedding Singer," based on the 1998 Adam Sandler pic, will shutter Dec. 31.
Co-produced by the "Hairspray" team of Margo Lion and New Line Cinema, the tuner has struggled to attract auds since it began perfs March 30.

Recent attempts to drum up biz with the casting of "American Idol" alum Constantine Maroulis proved less effective than hoped. The show, whose weekly grosses dipped below $400,000 in September, has so far earned around $15 million during its Rialto run -- not yet enough to recoup its approximately $8 million capitalization.

The exit of "Wedding Singer" clears the deck for "Curtains," the Kander & Ebb tuner that is the most likely candidate to fill the void at the Al Hirschfeld Theater. (David Hyde Pierce starrer preemed in L.A. over the summer.)

"Wedding Singer" has music by Matthew Sklar, lyrics by Chad Beguelin and book by Beguelin and Tim Herlihy, who wrote the original screenplay.

"Wedding Singer" may still inspire prospective incarnations in Asia, while stock and amateur productions will be licensed through Music Theater Intl. Producers also are in discussions for a 2007 national tour.

When it closes, "Wedding Singer" will have played 30 previews and 284 regular performances.
*sobs forever*



If anyone of you are in the NYC area before New Years, you've got to check out this show. It's funny and clever, the soundtrack is infectious and the cast is crazy talented. I'm so sad that it's ending. :(
Office Stash, Benji Appearance and Blog Mascots
CLICK HERE
to watch every.single.episode of The Office. Click it stat...stat means now!

All of you Canadian Benji fans need to set your TIVOS! He, along with Donyelle, Heidi and Travis, are going to be on Much Music October 25th. It's 5:00 PM eastern time. For those of us in the states, a lot of satellite/digital cable providers carry Much Music.

Thanks to captcanada for letting us know!

There's really, like, no news to report...on ANYONE, lol. So, instead, here's a photo of my cat, Milo, sleeping in a colander.




Compelling, isn't it?

Also, here's vixen's cat, jester, styling her hair.




I hate slow news days, lol.
ETA - dsetdgjrmg;;tejrym!!!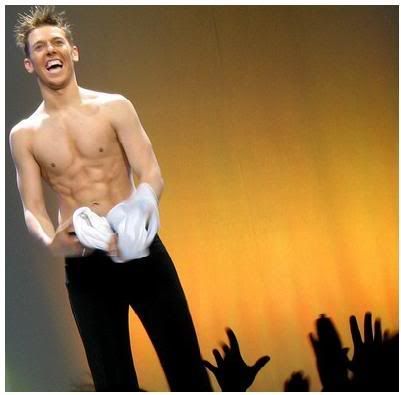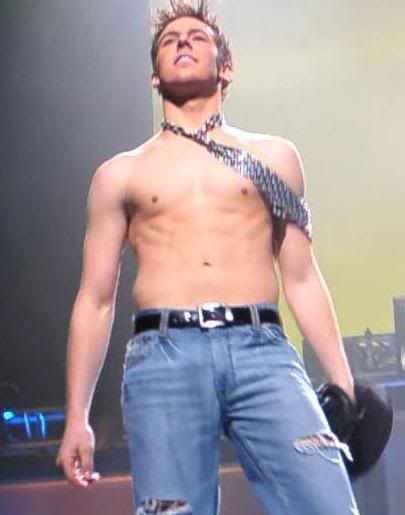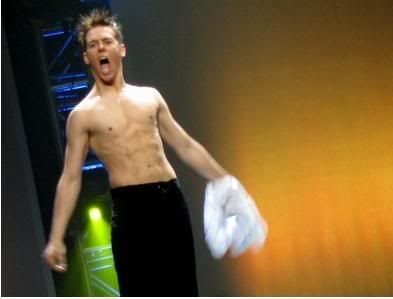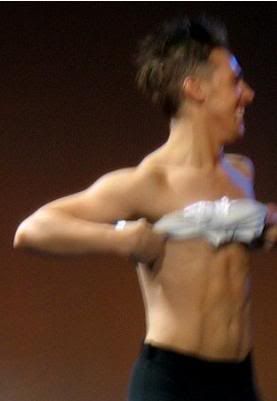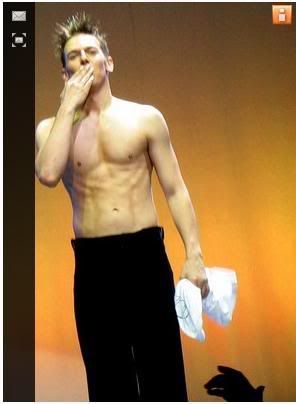 Tuesday, October 24, 2006
giving "death metal" a whole new meaning.
Monday, October 23, 2006
Kittens and Drag Queens and Sith Lords...oh my!
Do you all like the banner? I hope it's Halloweeny enough without it being orange cos I hates the color orange. Which is sad because I love pumpkins. Why can't pumpkins be pink? Or periwinkle? Periwinkle's a good color!
Tonight is an awesome TV night, you guys. Prison Break, Heroes and Studio 60* all in the same night! Monday is the new Thursday, y'all. Must-see hot men!
*Granted, Studio 60's the only show that I watch out of the three, but I know that vixen would have to get all Bad Mommy on me if I failed to mention the other two. Hee.
Saturday, October 21, 2006
you'll be with me, like a handprint on my heart.
so.
one of the most important things in life, i think most people would agree, is friendship. as many a greeting card would tell you, friends are the family that you get to choose for yourself.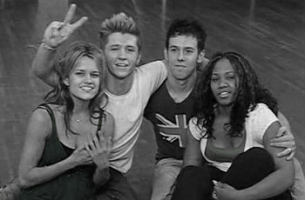 "without friends no one would choose to live, though he had all other goods." - aristotle
there are guy friends.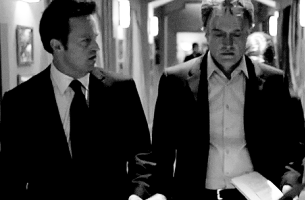 "it's the friends you can call up at 4 a.m. that matter." - marlene dietrich
and girl friends.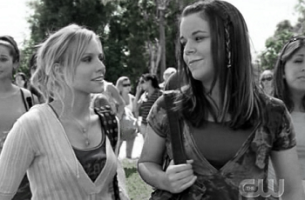 "each friend represents a world in us, a world possibly not born until they arrive, and it is only by this meeting that a new world is born." - anais nin
and friends who will one day be something more.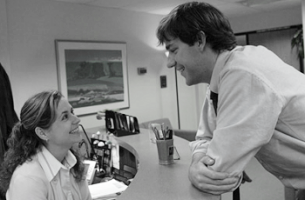 "friendship is unnecessary, like philosophy, like art... it has no survival value; rather is one of those things that give value to survival." - c.s. lewis
there are friends who we meet, and we're changed forever.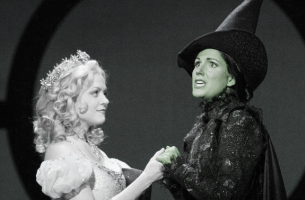 "so much of me is made of what i learned from you

you'll be with me like a handprint on my heart.

and now whatever way our stories end,

know you have rewritten mine by being my friend."
-- "for good," wicked
and friends who we've lost, and we'll never forget.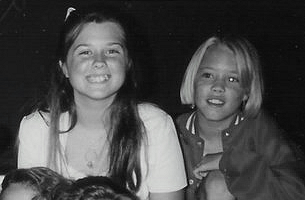 wendy was my best friend for more than ten years. she died in a car accident almost two years ago.
today would've been her 25th birthday.
i don't want to get overly sentimental; this isn't the place for that. i just want to remember her today, and ask you all to go hug a friend. tell him or her why they matter to you. and always remember how lucky you are.
much love to you all.
Friday, October 20, 2006
when tracy met benji.
so.
uh, here goes?
it's kind of funny, really. i started this blog because some people on a message board i read were starting blogs, and it seemed like fun. i already had my livejournal, where i talk about myself and what's happening in my life. so i thought, well, i like boys, and tv, and stuff like that, so i'll just post pictures of cute boys and maybe talk about tv and that'll be fun. maybe someone will even read it!
so i started blogging. my first entry was a photographic inventory of my main "boyfriends," posted on may 29. (this was before i decided to skip out on capital letters, apparently. hee.)
on june 8, i mentioned benji for the first time, and called him one of my early favorites.
by june 15, i was officially a fangirl.
as i talked more and more about benji, and started posting videos and stuff, more people kept showing up. and eventually it became, like, benji central, and stayed that way for quite a while.
and all of this is a really long way for me to get to a fairly simple point, which is that i certainly never expected to end up actually meeting the guy, much less meeting him because he hooked me up with a pass. but, y'know, somehow i managed to suffer through it.
so, like, i should get on with it, yes? yes.
well, after the whole will call issue of 2006 on the first night (specifically, that they didn't have my name and i think they definitely thought i was an insane stalker), i was a weeeeee bit nervous for the second night, but since benji'd assured me that they would have my name, i was cautiously optimistic.

[[[in unrelated news, i'd gotten new shoes that day which were perfectly comfortable at nine west and decidedly less so at the theater, so those cramped (literally, omg) my mojo for the evening a bit.]]]

regardless, i took my ass to will call, and sure enough, i had a pass! not only that, i had two passes!
so, i had two passes and only one of me, but i did a little detectiving (aka stood around and watched a certain seat) until i found the lovely trish, who'd told me she would be there. i introduced myself, we hugged, i gave her the pass, we hugged yet more. it was cool and she is just awesome, y'all!
so, with that handled, i went to my seat and settled in for the show. does anyone care what i thought about the show itself? no? i didn't think so, lol. it was fun and funny and benji was the best part, but i liked everyone. (even ivan! *gasp* hee.) also, my girlcrush on natalie grew everytime i saw her. she is oh-so-hot and just amazing. and she gets lots of appreciation for using "maps" for her solo.
ok, so the show ends and i walk, like, completely the length of the building (in my evil shoes!) to the info desk, only to find out that i needed to go wait by door #1 ('sup monty hall?), which was, naturally, where i'd just come from.
soooooo, i walked back across.
(omg, y'all, i'm the worst storyteller everrr.)
anyway! ok! interesting stuff! i assumed the m&g would have more people and be some kind of vaguely structured thing, but it was just natalie's brother and 3 of his friends, along with me, trish, and trish's friend. and it was, like, standing around in a back hallway of the theater. totally not what i was expecting, but hey, it worked.
so we got back there, and travis was wandering around, and we saw jaymz looking like sonic the hedgehog with that hair of his, and allison and natalie showed up and we chatted with them a little. allison was talking about a dress she bought at some drag queen store that…has something to do with a trucker? i don't know. she's really pretty in person; much moreso than i would've thought.
finally, benji showed up! it was funny – i was standing, like, right at a corner, and i heard him coming up behind me talking to the tour backstage dude, and he comes up to where we are, stops, like, right next to me, and starts looking around going "where's….wait, where's…? and then looks at me all "oh, hi!" he was looking for me! *wins*
anyway, so i gave him a hug (duh) and congratulated him on remembering to give them my name this time, and told him how the people at will call had totally thought i was lying the night before. (which they had! i felt like such a tool, lol.) when he looked quizzical, i told them that they'd told me i'd have to get in contact with benji to sort things out, and i continued that if i could get in touch with benji, i wouldn't be at will call. (while i was saying "i wouldn't be at will call" he said "you wouldn't be there." so, moment! hee.)
he started talking about how the problem was that he'd been at the hospital with his hand, and i mentioned that he hadn't had it wrapped during the show, and he said that he'd taken vicodin the night before and was still working with that. (which, lightweight! hee.) he held out both hands and let me tell you guys, his left hand was huuuuuge – completely swollen (that's what she said!). i don't know how he did the whole show with it just all out there. eep.
then (i'm probably getting stuff out of order, but oh well – creative license) he said something about how he couldn't wait to see what i wrote about our meeting, to which i replied that he can't read it, and now it's kind of weird to write about him – "now that you know me!" he said – and he said something about it kind of taking away some of the sparkle, and i was like "yeah, i'm totally over you now." and he started joking about his picture coming off the blog header, getting slowly pushed to the left, and i said i was just going to keep making it smaller and smaller, lol.
then trish interjected something about him actually being hotter in person, lol. he seemed pleased. (trish said some other stuff at various points too, but i hope she'll understand when i say i wasn't really paying attention to her, hee.)
then he's all "oh yeah! i meant to tell you this yesterday – you like the office, right?"
[[[sidenote: wasn't tonight's ep fantastic?!]]]
and i confirmed my office love, and he starts telling me about how during tour rehearsals, janet jackson came and watched at some point (which as far as i can tell has nothing to do with the story, lol), and then he talks about walking through a hotel in burbank (where rehearsals were? or something?) and seeing people who looked familiar, and noticing that they were in office-worker looking clothes, and then realizing that it was the cast of the office!!! they were filming there – i'm assuming it was "the convention" episode, that aired a couple weeks ago. benji thinks they (him and some of the other dancers) may have been in the background somewhere, so anyone who wants to play a little spot-the-schwimmer, go to town. in any event, benji got to meet them all, and talked about steve carell doing, like, 20 takes of every scene, 'cuz he likes to improvise a lot and stuff.
um, what else? he asked if it was weird to be hanging around with him, and i told him kind of, but not awful. he talked about going to bryce avary's with lacey and how they were just like "uh. hi. what's up?" and felt weird, lol.
he talked a little bit about getting some angry-ass email from the militant benjelle types, and the video he and donyelle made addressing the rumors or whatever. i felt bad, because he said donyelle was upset about some of the things people were writing to her boyfriend. grrr. (although, to the anonymous commenter from a few weeks ago who left that incredibly rude, condescending message about how dumb people were for thinking benji's special lady friend could be anyone but donyelle – way to go there, killer! heh.)
omg this is getting long. other little things:
+ he claimed to be surprised that i smile so much since i always look serious in pictures. i told him that i needed to keep my tough rep for the internet so no one would mess with me. SO PH34R ME, INTERNETS. hee. he also said something about probably being more docile than i would've expected, which is both true and not true. he's calmer than you'd think, but i certainly never expected for him to be BENJI(!!!!!!) all the time, you know?
+ while we were talking, he was, like, standing on one leg for a while, and then doing some random side kicks and stuff. i don't know if he was having some kind of an issue or if he just does that. i used to cheerlead in place all the time when i was a cheerleader so it may just be a habit, lol.
+ he asked me how my cat was doing, lol. my cat is famous on the internets! \o/
+ we'd taken a picture together right after he came out, and at one point he had to leave for a minute, so i took a sec to check out the pic and decide that i hated it. so as we were kind of wrapping things up (the tour manager secret service dude was wanting benji to get out and commence with the autographs at this point) i asked if we could take another picture, and he said ok, and i was holding my camera, and he looks down and grabs my hands and goes "your hands are shaking! tracy, stop it. it's just me."
which – y'know! i thought i was relatively calm, or at least doing a reasonable impression of a calm person, but clearly not. so i yelled at him for pointing it out and fake-punched him in the shoulder. hee.
so we go to take another picture, and this was kind of funny, actually, and didn't occur to me until later – you can totally tell benji is used to leading women around, because i was standing on one side of him, and we were going to take the picture, and he did…something…and suddenly i was on his other side, without meaning to be and without him having moved more than, like, his arm. looking back, i still don't know how he did it, but that's kind of hot, yeah?
[[[side note: i bet he was awesome at being a missionary. because he's just so cute and charming, that he could've been like 'hey, no more internet for you ever!' or 'ok, now kick this puppy!' or 'you will eat five servings of vegetables every day, and no more chocolate!' and i totally would've gone along with whatever he said.]]]
so we took the other pic, and he thanked me for all i'd done (which is silly, he's the one who did stuff, i merely fangirled at a high volume), and told me to keep in touch, and we hugged, and he started walking toward the exit.
and then i remembered; i was supposed to tell him to call kale!
so i called out "kale says hi and to call him when you can!"
and he turned around, walking backwards, and said "oh! your friend…oh, what's her name? with the long blonde hair, the mom? what's her name?!"
"anne!" i said.
"right!" he said. "she said to tell you hi!"
"oh, ok!" i said.
and he smiled. waved.
and then he was gone.
Thursday, October 19, 2006
Meet me in the office, baby.
Vixen's fighting off her Bacteria O' Fury while simultaneously preparing a Recap O' Squee, so you're all stuck with me again.

*cackles*

Benji blogged yesterday! No booger talk this time around (darn it!), but he did mention his charity,
D.E.M.A.N.D.
Click, and you'll find information on how to make a donation and receive a t-shirt exclusive to the charity.

Speaking of Benji, I've got loads of info on his favorite show, The Office. (I totally deserve a Dundie for Best Segue.)

The current issue of InStyle magazine is all about "What's Hot Now". Both Jenna Fischer and John Krasinski are featured within.

The scans are HUGE, so if you're in dial-up, you may want to start a pot of coffee because they might take a little time to load.


Ginormous!


Is she not the most gorgeous woman ever? I'm developing such a girlcrush on her. She scrapbooks (I scrapbook!) and we have the same crushes (although I'd substitute Tom Wellings with John Krasinski, of course). I just love her. I wonder if she spends as much time as I do messing around in Microsoft Office.


Ginormous!


I had no idea he grew up with BJ Novak! That's two hot New England boys on my favorite show. *swoon* He shouted out to Dunkin Donuts! I loooves me some Dunkin Donuts. Their coffee is one step below crack, I swear.

If neither of those links work, then go
here
and click on the thumbnails. Each page should have a "get original uploaded" photo link. Those will take you to the scans.

Also, there's a great article about Scranton, PA's reaction to The Office. The show is actually going there to shoot an episode based on Scranton's famous St. Patrick's Day parade!

Paper Magic Group, which makes greeting cards, Valentines and other seasonal products, is often confused for Dunder Mifflin. The office building is shown briefly in the show's opening credits, along with a Mulberry Street sign.

And actor John Krasinksi, who plays Jim, visited Paper Magic when he was scouting possible locations and filmed the opening montage of the city from his car. He is the only cast member actually sighted in Scranton.

But the cast plans to come to Scranton to film an episode about the huge St. Patrick's Day parade. And the mayor wants to fly the cast in through corporate sponsors for "The Office" day, a big lovefest of the show.
You can read the entire article
here
.
Wednesday, October 18, 2006
the anticipation was a turn-on, but you let me down.
sorry, i know people want a recap, but i'm feeling kind of awful -- i think i'm coming down with something. :(

anyway, i'm mentally composing my story o' squee and i promise i'll post it as soon as i can. i also have another pic that's supercute of benji (and awful of me, lol), so here's a cropped version of that with just the cute part, in the meantime. hee.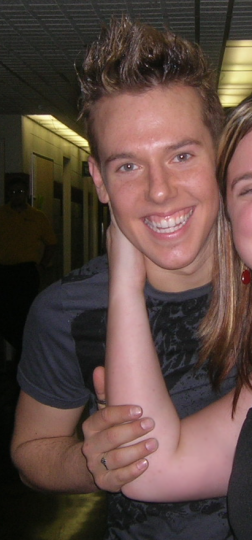 recap soon, i promise. i don't mean to be a drag, i'm just sickly and i don't want to write a boring report, dammit!
Tuesday, October 17, 2006
oh man, i heart steve carell.
good morning! i'm awake! i'm working on a recap!

in the meantime, check this out. the other night comedy central held a benefit for autism research, and steve carell sent in a tape.


*dies*

benji schwimmer. and some girl.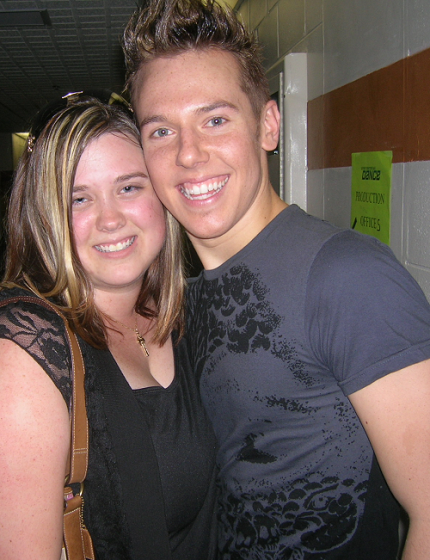 THE TRANJI (THE REAL TRANJI) IS COMPLETE!

(yes, i look stoned. no, i'm actually not. yes, he is actually that adorable. no, i don't remember anything. yes, i'm lying. but no, i'm not posting my recap now.)

i am TIRED, people!

a few quick things before i go dive into my bed:

~he didn't have his hand wrapped or anything during the whole show tonight. he claimed to still be feeling the effects of the previous night's vicodin, lol.

~he met the cast of the office! so not only did i get to meet benji, i got within one degree of john krasinski! double score, eeee.

~benji was surprised that i was smiley and perky because i always look serious in pictures. do you guys think i'm some uberbitch!? :O

~when i got in my car, i realized i smelled like him. yum.

Sunday, October 15, 2006
is this the real life, is this just fanta-SQUEE?!
i met benji!!!

\o/

...

...

...

oh, what, you want to know more?!

well, as everyone and their mother apparently knew but me, benji did a number on his hand last night in miami. turns out it's pretty severely sprained, and it's his left hand so he can't sign autographs (although i watched him make a valiant attempt to sign one right-handed for a little boy of about 4, like 2 feet in front of me. as you can imagine, i maybe squeed a bit).

anyway, i guess during the flip in the tranji dance, he caught a couple of fingers in trav's belt loop. :( i have to give him SO much credit, i didn't see even a flinch and i was superclose. (and watching him like a hawk, lol.)

ANYWAY. consequently he spent quite a bit of today at the hospital, which prevented him from leaving me a pass thingy at will call. :(

but!

i'm getting one tomorrow! :)

i couldn't see him before the show, obvs, so i had to wait by the buses. (which was a very high-pitched experience, lol.) i am, like, not great at pushing people out of my way, so i wound up walking almost the entire length of the barricades before i got to him. and so i finally did, and i was all "benji! i'm tracy!" and he yelled and grabbed me and hugged me for three days, and then he introduced me to people as his "good friend tracy" (!!!) and we talked to me for a few minutes and he held my hand the whole time. aw. he's the cutest boy EVER, y'all. like, remember on that results show when he was holding hands with donny while they were, like, hugging other people and stuff? that's how he was holding my hand- he was taking pictures with other people, and talking on the phone to some chick's mom, and hearing a speech from a really cute, rather emotional young teenage girl about not letting people judge him (in reference to that blog he posted a while back), all while still holding my hand. cutecutecute.

i also totally kissed him on the cheek randomly for no good reason. he is just WAY too cute, y'all. luckily he did not object to my assault. hee!

oh, and he said i was the most powerful woman on the internet, lolz.

i didn't get a picture, which was dumb because i actually look cute for once. i guess this means i have to look cute again tomorrow, damn.

but, here's a pic of benji on the phone with me from miami last night, because i have amazing friends. XD



(he's totally talking dirty to me.)

(ok, not really.)

oh, and the show itself is totally kickass! i love it! i'll do a real recap when i get home.

also, benji claims to have a crazy pic that will be appearing on his myspace soon, so keep on the lookout!

this blog brought to you by the punctuation mark "!!!".

EDIT: also, if anyone will be at tampa tomorrow and wants to meet me (which you should! i'm nice sometimes!), i'm in orchestra row j, seat 3. come say hi!

also also? desiree (is that spelled right?) -- if you're reading this, it was nice meeting you! keep in touch!

EDIT2: and speaking of new friend desiree, check out this UBERCUTE vid she has of benji en espanol.


Friday, October 13, 2006
Jenna Fischer: Hot and Dirty Receptionist
Jenna was a Hot List guest in the most recent issue of Rolling Stone.

This? Is amazing.
Wednesday, October 11, 2006
TV PREMIERE - 30 Rock
The adventures of Bobble Dwight are still on their way. :D

In the meantime, you should all check out my TV wife's new show, 30 Rock, which premieres tonight. I really really love Tina Fey, and this show's gotten great reviews, but I'm kind of worried that people will think it's a bite-off of Studio 60 and decide not to watch it. They're two completely different shows though, and I think you'll all like it. I hope you do anyway because I cry at the thought of no Tina Fey on TV.

Come on, y'all...the lady's hot!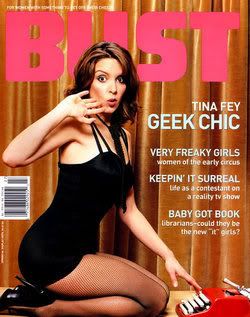 RAWWR.

Watch it! Tonight! 8:00 EDT on NBC!
NBC's got a four-minute clip from the pilot up on YouTube:
Monday, October 09, 2006
i clicked my heels three times.
i'm home!

i

♥

ny.

(and rx groupie.)

more later! did you guys miss me? (hint: your answer is YES.)
RX BLOGJACK!
Vixen is made of awesome, y'all. Lady Liberty ain't got shit on this woman.

In other news, John Krasinski is impossibly gorgeous. I totally call dibs on his boy parts.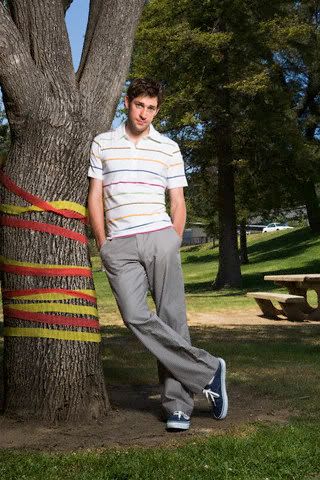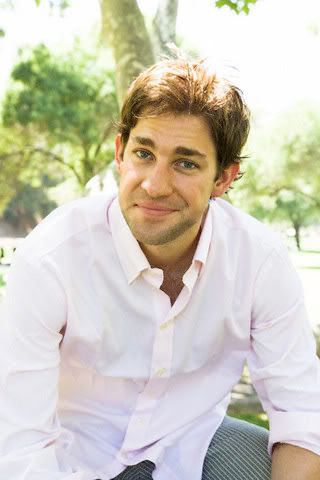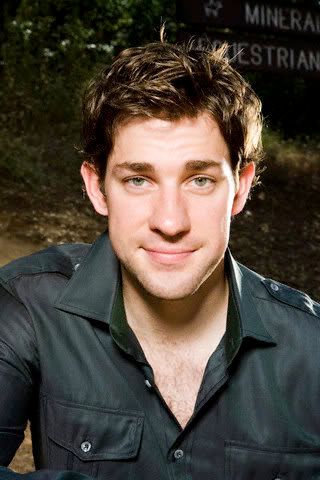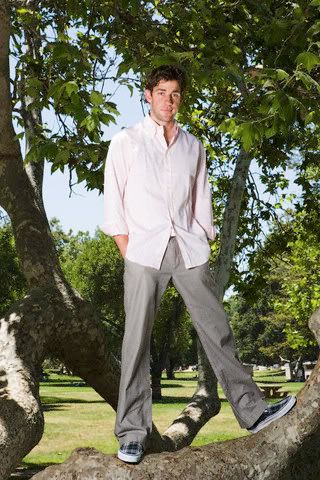 I wanna lick his face and plaid shoes.
Coming Soon...
Dwight Takes Manhattan
Friday, October 06, 2006
we <3 ny!
superquick blog:

1) benji blogged twice on myspace and has a new pic up. he apparently has a girlfriend, who i hate on principle but i'm sure is a fabulous girl and i'm totally happy for him. or something. maybe. hee.

2) i'm about to board my flight to nyc, squee! rx and i are going to get all metropolitan on somebody's ass. stay tuned for a dual blog at some point, but in the meantime if it's quiet, you'll know it's 'cuz we're busy having actual lives!

Thursday, October 05, 2006
oh jensen ackles, you dirty, dirty man.
trust me, you want to click these.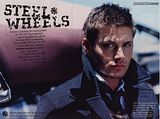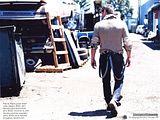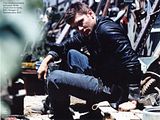 so much with the gorgeous. rawwwwwwwr.

happy supernatural (and office!) day, bitches! :D :D :D
RX BOGJACK!
The Office will not be relegated to your parentheses, lolz! (Actually, you just managed to publish a blog before I did, so now I'm all up in your grill. Hee!)

What's got two thumbs and has a new episode of The Office airing tonight at 8:30 on NBC?



This guy!

Pam's in perma-squee mode...



Michael's beside himself...



I think Dwight just wet himself in anticipatory glee...



WATCH THE OFFICE! (And Supernatural too, if you get the urge. Hee!)
show the temp some love!
b.j. novak (ryan from "the office") on the tonight show last night.


how cute is he?! (answer: extremely!) ♥

Wednesday, October 04, 2006
tv alert! tv alert!
hey, people should watch "the nine" tonight (ironically, it's on at 10. kind of like how "friday night lights" is on tuesdays, lolz.) i saw the pilot a while ago, and it was pretty great.

what happened in there?


lives altered forever.


tonight at 10 p.m. on ABC.

Tuesday, October 03, 2006
addie/mcsteamy ftw!
man it feels good having VM back on my tv. logan and veronica should be in bed naked and sweaty more often, plz. i've already watched the episode 900 times so i don't have much to say at the moment, lol. but oh, poor dick. he's a mess. but that body in the speedo? rawr.

ANYWAY!

addison/mcsteamy moment from this week's upcoming GA episode.


they are SO much more awesome than mer/mcdouchey.

for the love of kristen bell, watch veronica mars!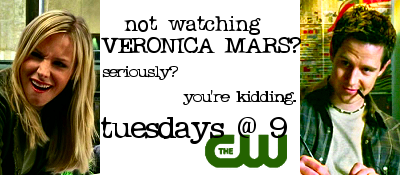 i know i talk about tv a lot. i watch a ridiculous amount of it, and i go on and on about how good various shows are. which on the one hand means that this is just yet another show i'm rambling about. but on the other hand, it also makes the fact that of all the shows i watch, this is MY VERY FAVORITE kind of significant.

here are a few reasons to watch veronica mars.

if you're shallow (like me!), there's an overabundance of boys of the hot persuasion.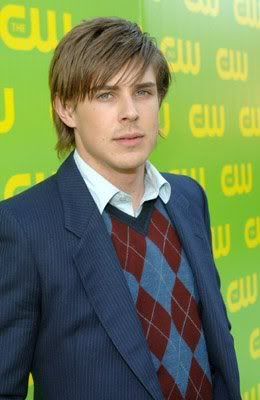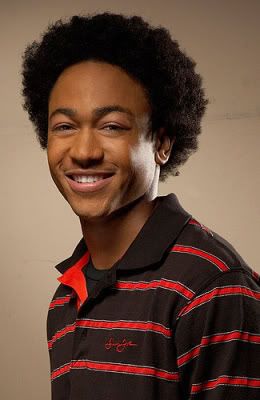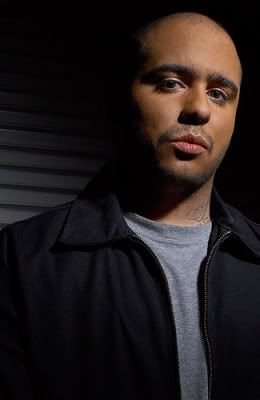 if you're into snarky, funny dialogue, it has that in spades.


if you like gritty, dark situations, it's got quite a few of those.


if you like emotion and romance and friendship and family, look no further!


seriously. i love this show passionately, and it desperately needs ratings. if it doesn't pick up an audience in the next few weeks, it's done, and the entire internet will be overrun by my teary tributes to my favorite show ever.

none of the previews and promos do it justice, so you'll have to judge for yourself. so i'm asking nicely.

please watch veronica mars tonight. even if you don't think it's something you'd be interested in, at least give it a shot. if you hate it, i'll, like...i don't know. i'll do something to make it up to you. but you won't hate it, because it's awesome.

here's a quick "cheat sheet" with all you need to know.
find your local affiliate.

tonight. the cw. 9 p.m. veronica mars.

BE THERE.

Monday, October 02, 2006
Reading Jenna Fischer
Seeing as Vixen's composed the last 3536262 blogs, lol, I suppose it's my turn! :D

Remember Jenna Fischer's list of
10 Things Men Need To Know About Women
for Esquire magazine? Well, various cast and crew members decided to perform a dramatic reading of it for all of us to see!



Even if you're not a fan of The Office, you need to watch this. It's AMAZING.

In non-Office related news, during Clay's CD signing last week in Hollywood, one of his fans had him sign their camera. After he signed it, he took a picture of himself.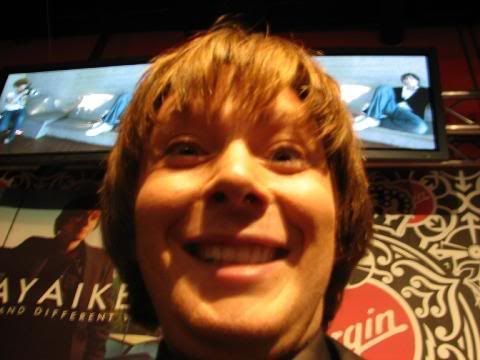 LOLZZZZ.

vixen blogjack!

elton john is more fabulous than you or i will ever be. l-to-the-ol.