Saturday, September 30, 2006
comin' atcha!
Friday, September 29, 2006
OMG WITH THE AWESOME!
Thursday, September 28, 2006
in which vixen is SUCH A GIRL.
Wednesday, September 27, 2006
and today was a day like any other.
stuff that's making me happy right now.

1. clay on the ktla morning show today.

part 1.


part 2.


he's so cute and articulate. and he knows his politics. that makes me hot.

also the fact that my girl littleblackdressmama got to meet him last night! ♥

2. this picture of benji.



how can he be so porntastic and yet so innocent about it? my god. is there a male version of the madonna/whore thing? gah! swoon! rawr! squee!

also the fact that my girl courtney met him last night! ♥

3. battlestar galactica promos. the excitement threatens to overwhelm me. this show is amazing and i LOVE the entire cast with the heat of 1000 ez-bake ovens. they are all brilliant and the majority are also gorgeous.

the men.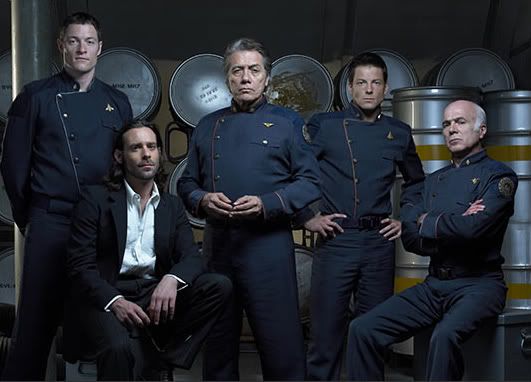 the women. (the tall blonde on the right is my hero. omg love.)



askfhdasflakh. if you don't watch BSG, you are missing out, my friends. the season 3 premiere is october 6. they keep re-running a "the story so far" 1-hour thingy, so check your listings (or download it for free from itunes, or watch the three minute online version here), get caught up, and watch the season premiere. you won't be sorry. don't let the sci-fi label put you off -- this is drama, and it's SO GOOD OMG.

4. tomorrow night, i get to look at these guys.




supernatural, 9 p.m. on the cw. and if you loved denny on grey's anatomy, he's the dad. so triple hotness, yay!

Clay and Kimmel: BFF
Tuesday, September 26, 2006
RX? Posting about The Office? No way!!!
Monday, September 25, 2006
OH EM GEE.
Elliott Yamin = Super Awesome and Studly
Sunday, September 24, 2006
logan + veronica = perfection.
Saturday, September 23, 2006
Of Blogs and Jello Office Supplies
Thursday, September 21, 2006
TV PREMIERES - The Office and Grey's Anatomy
so you think you can sing.
Wednesday, September 20, 2006
Panic! In The Claikens
Tuesday, September 19, 2006
ass and espanol!
the bengan!
Monday, September 18, 2006
TV PREMIERE - Studio 60 on the Sunset Strip
Sunday, September 17, 2006
i *heart* dick. and shirtless benji.
benji...LIVE! and other stuff too!
Thursday, September 14, 2006
a quickie.
Wednesday, September 13, 2006
"where you goin'?" "wherever you are."
Monday, September 11, 2006
benji schwimmer = made of adorable.
Sunday, September 10, 2006
YAAAAAAAANKEESWAP!